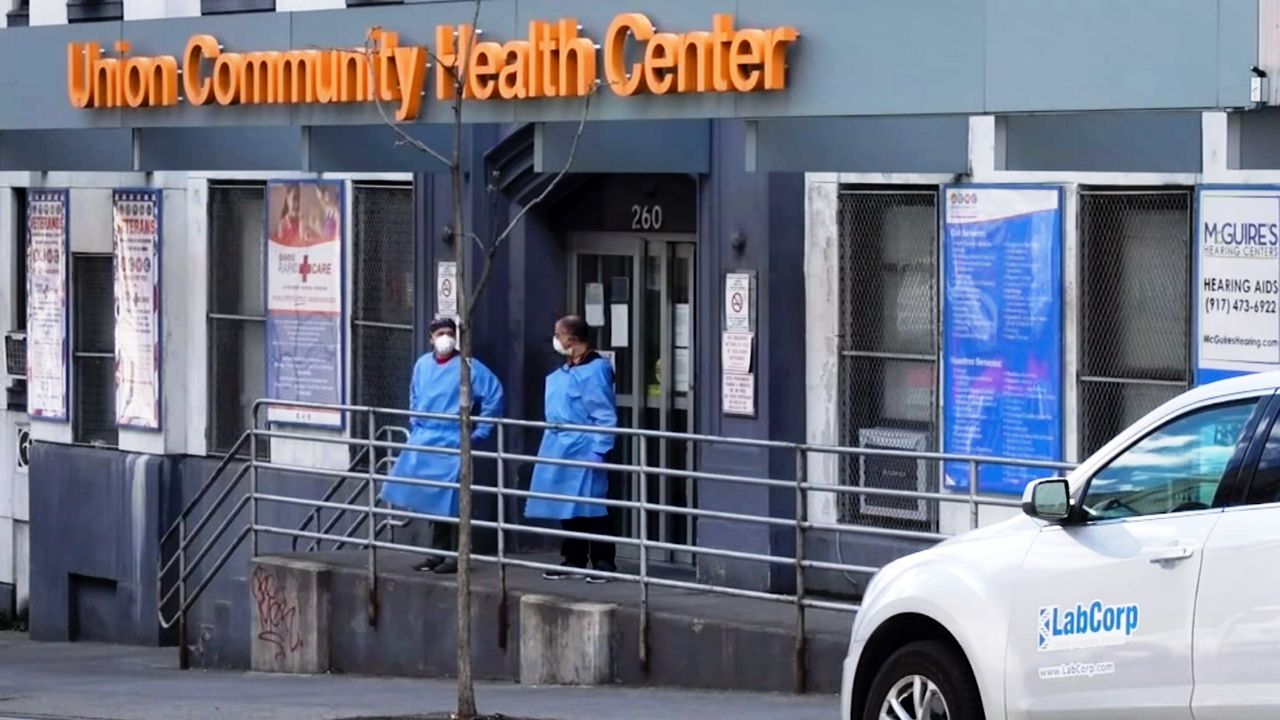 NEW YORK – Alicia Gonzalez' health is fragile, putting her at higher risk of a severe illness should she become infected with the coronavirus.
A housekeeper who lives in the Bronx, Gonzalez was diagnosed as pre-diabetic last year, and had a gastric bypass in March.
"I was in the surgery on March 10 – exactly when everything started," Gonzalez said.
Her medical lifeline is the Union Community Health Center in the Bronx, which provides an array of medical services from primary and dental care to physical therapy to 38,000 people a year at seven locations in the borough. But since the pandemic erupted, Union Community has been forced to end on-site visits for all but the most urgent medical needs and substitute what it can with tele-health services.
"We are the working poor. As we know, we've been hearing a lot about essential workers throughout the pandemic, these are our patients," said Dr. Vanessa Salcedo, Director of Wellness Health Promotion at Union Community Health Center.
According to the Robert Wood Johnson foundation, the Bronx is the least healthiest county in the state, in part, because it has the fewest doctors per resident. And that makes clinics like this one so essential.
"We have the highest rates of diabetes, of obesity, of hypertension, of chronic disease of all of New York state so we know this is a medically vulnerable population," Salcedo said.
But in March, when Union Community was forced to cancel non-essential, on-site services, it went from helping 700 patients a day to fewer than 100.
"So when you think about the revenue impact of losing 80 plus percent of all your revenue, almost within a few days. Devastating," said Dr. Douglas York, CEO at Union Community Health Center.
Even with its expansion of tele-health since then, Union Community still only serves about half the number of patients each day than it did before the pandemic.
Congress has provided more than $100 billion to hospitals and clinics to compensate for lost revenue and higher costs. But Union Community says the $1.8 million it received is not nearly enough.
"If we get into the position where this goes on for a long period of time and there isn't continued financial safety net provider funds, we have to start cutting services and when you start cutting services, all that does is start hurting patients," York said.
That means Union Community could become one more victim of the pandemic, forced to cut services to an already underserved community, putting New Yorkers like Alicia Gonzalez at even greater risk.
"I don't want to think about that," said Gonzalez. "I don't know what I'm going to do without them."
Source: Spectrum News NY1 | The Bronx