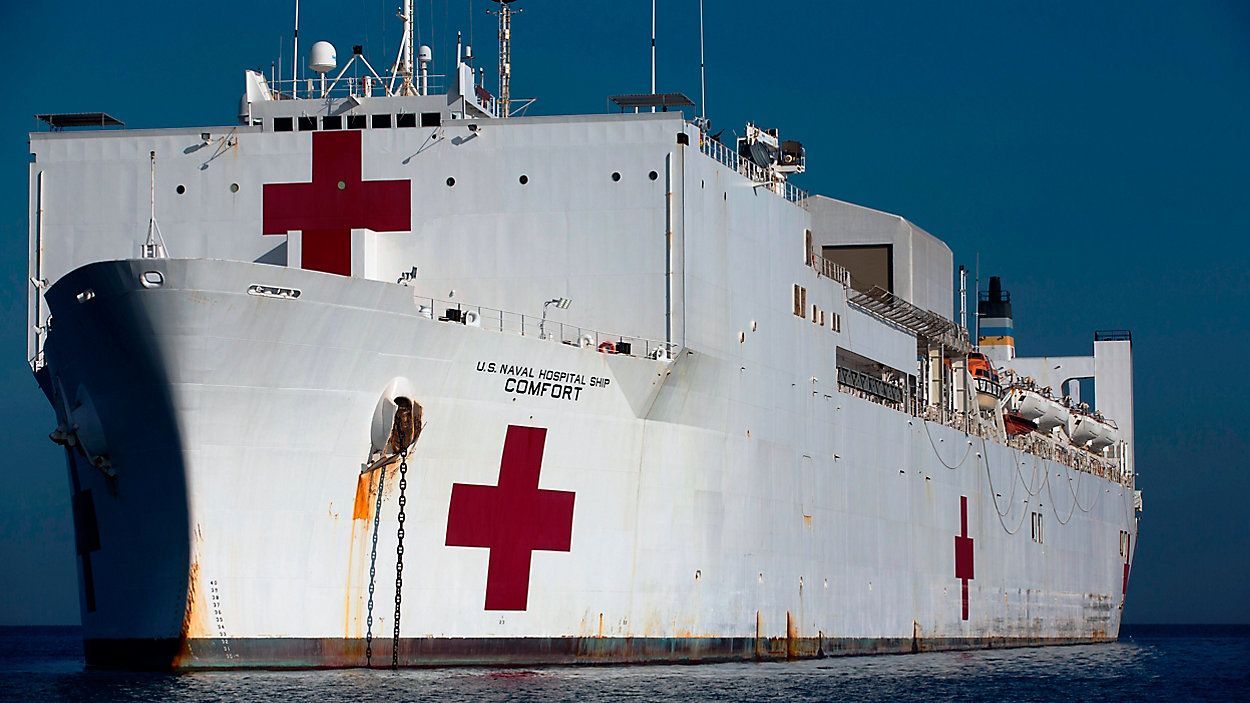 A floating hospital will arrive in New York City on Monday to help the stressed hospital system amid the new coronavirus pandemic, President Donald Trump announced Thursday evening.
Trump said the U.S. Navy hospital ship, the USNS Comfort, will depart for New York City on Saturday and arrive at Pier 90 on Monday.
The plan, New York Gov. Andrew Cuomo said eight days ago, is for the ship to aid the health care response and expand the number of available hospital beds amid fears the city will run out of beds. COVID-19 patients are not expected to be treated on the ship.
The Comfort's planned deployment comes as New York City-area hospitals are clearing out beds, setting up new spaces to triage patients, and urging people with mild symptoms to consult health professionals by phone or video chat instead of overrunning emergency rooms.
It is a fully functional hospital, with at least one thousands beds and a dozen operating rooms.

Other news from the president's briefing:
The president said he spoke to the governors of all 50 states and the "territories" and said he's in constant touch with them.
Trump said he will release new information about "re-opening" the country next week, including "dates," and offer new guidelines for social distancing, though that decision would be up to governors and mayors.
The president said he talked about one governor, who he said was "a little bit of a wiseguy but not so much anymore. We saw to it he's not a wiseguy anymore." He didn't identify that governor.
Trump said there may be "one grandstander" in the U.S. House of Representatives, which will soon vote on the coronavirus stimulus relief package that the U.S. Senate easily passed overnight.
He updated delivery numbers from FEMA, and again said companies are working on making crucial medical supplies like masks and ventilators. According to Trump, some are already being worked on, though companies have said it would take weeks, if not months, to retrofit factories and assembly lines.
Trump said the United States is conducting a record number of COVID-19 tests, more than any other country. He again claimed he took over "empty shelves" in the national stockpile and an "obsolete and broken" testing system, though there is no evidence to suggest that.
The NIH and the FDA are working to discuss and approve a vaccine and treatment drugs in a very short time, according to Trump. Dr. Anthony Fauci — director of the National Institute of Allergy and Infectious Diseases and a member of the White House Coronavirus Task Force — said many vaccines are being tried, and that testing will take a long time and may only help in the potential "recycling" of coronavirus next season.
The president said he spoke to the G-20 leaders Thursday morning, naming each one, saying they talked about the importance of sharing information. Trump called it a great conversation.
Trump said there is an increased number of agents at the Canadian border.
He again claimed the United States is collecting millions of dollars in tariffs from Canada and China, though U.S. consumers pay tariffs, not foreign countries.
——
FURTHER CORONAVIRUS COVERAGE
How Hospitals Protect Against the Spread of Coronavirus
Coronavirus Likely Spreads Without Symptoms
Cuomo Bans Gatherings of 500-Plus as More Coronavirus Cases Confirmed
NYPD Officers Prepare to Combat Novel Coronavirus Spread
NYC Businesses to Be Fined If Caught Price Gouging Face Masks
MTA Crews Cleaning to Prevent Coronavirus Spread
Testing for New Coronavirus Can Now be Done by City
Cuomo Granted Broad New Powers as New York Tackles Coronavirus
Source: Spectrum News NY1 | Manhattan