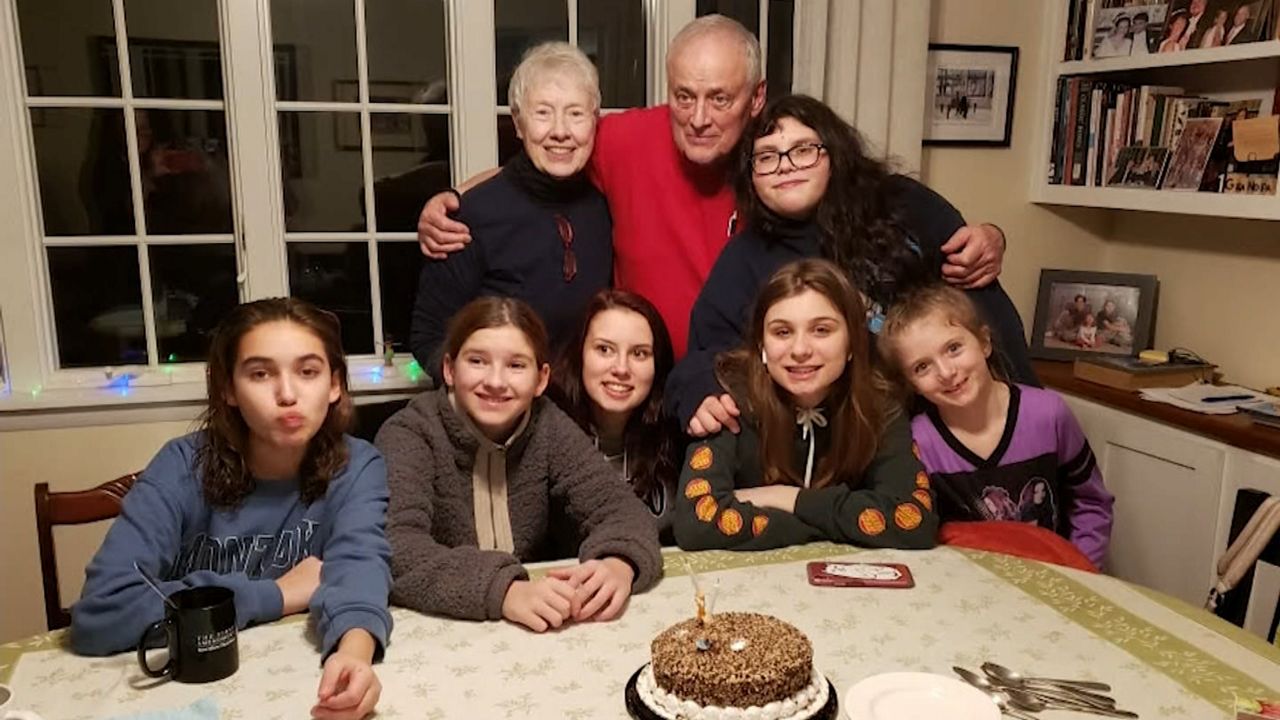 NY1 Producer Amanda Blazek, working from home for a 12th day now, says there are some pluses that come with working remotely.
"Not having to commute and being with my family all the time," she says.
Like so many New Yorkers, she's following state directives to stay home to slow the spread of the coronavirus. So the NY1 newsroom is empty on this day, when it's usually filled with dozens of people covering 24 hours of television production.
But she finds that with her husband, their three kids and her mother-in-law under one roof in Bayside, Queens, some spaces in the house are at a premium.
"Our bathroom is always occupied," she says.
For Joan Blazek, her mother-in-law,the constant company of her immediate family is revealing.
"We all get to re-know each other. For sure! And closely!" she chuckles.
But after nearly two weeks, everyone in the house is missing what they took for granted – gatherings. A wedding in the family later this year might be postponed. And whenever the weather has been fine, they get out for exercise. But it's just not the same.
"The worst part is not being able to socialize," Joan Blazek laments.
Her granddaughter Arianna agrees.
"The worst part is not being able to experience the nice weather with my friends," she says.
Arianna is painting a fantasy landscape in one of the rooms of the house.
Creating her own vistas is easy; she loves art. But coping as a family is just as important.
Neuropsychologist Dr. Sanam Hafeez, who teaches at Columbia University and has offices in the city, says families should discuss boundaries to keep the peace in the weeks, possibly months, ahead.
"From 7 to 7:15, the bathroom is mine. From 7:15 to 7:30, the bathroom can be yours," she offers as an example. "You like coffee this way, so you make it while I work on breakfast."
"Having a conversation with each age group at their developmental level, while being sensitive to their needs, is important. Just as children can be somewhat dismissive, the older generation can be somewhat stubborn," Hafeez adds.
Hafeez says topics ranging from what not to bring into the house from outside, to separating utensils and appliance use in the kitchen, can address concerns some may have in a household that others haven't thought about.
In Brooklyn, 12-year-old Alejandra Guerrero tries to bridge that gap with her mother, grandmother and dog with the usual activities.
"We play cards, board games, TV. Definitely Netflix," she says.
Her grandmother, Hortensia, gets creative, helping with so many more meals she and her granddaughter and daughter have been having.
"Making some food, different kinds of food," she says.
And then, there's the not so usual. Alejandra baked apple pie­­ with her mom this week. That just doesn't happen when the weather is nice and she's usually out with friends.
But these are, after all, extraordinary times. And Dr. Hafeez reminds us, these moments may be cherished when we are all past this.
"There is something sweet about this, even though there is something terrible going on around us. Hopefully, people will hang on to some of this when it's all over. And it will be," she says with a smile.
Until then, families will stay close – while keeping their distance from everyone else.
Source: Spectrum News NY1 | Brooklyn