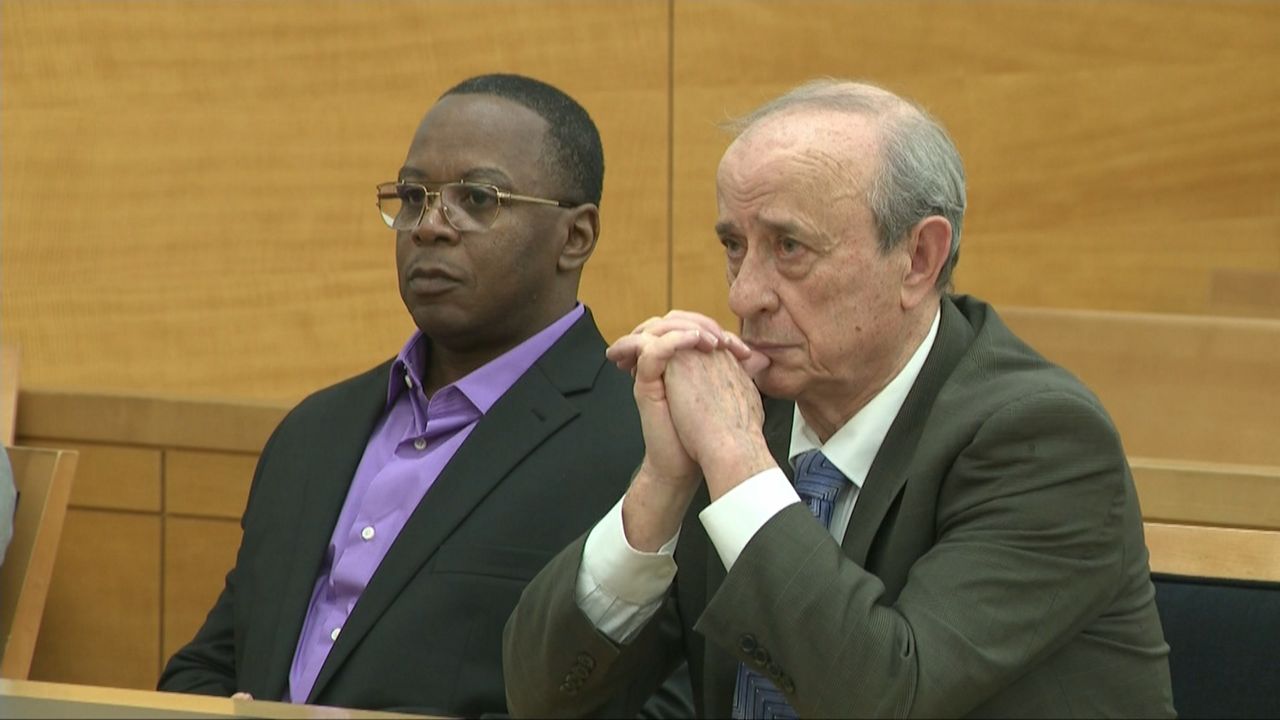 Emmanuelle Cooper, 54, learned Friday morning in Brooklyn Supreme Court he must face a new trial for a murder he says he did not commit.
Cooper's 1993 murder conviction was overturned in January, after he had served 27 years of a life sentence.
But Friday, prosecutors with the Brooklyn District Attorney's Office told Judge Ruth Shillingford it wanted to try him again.
"Why are they doing this to us?" Cooper said outside the courtroom afterward. "Why are they doing this to my family? It hurts. It hurts."
Helen Peterson, a spokeswoman for the D.A., says prosecutors will retry the case "in the interest of justice" because an innocent life was taken.
Token booth clerk Andres Barretto was shot dead during a 1992 robbery at the Euclid Avenue subway station in East New York.
Cooper's legal team argued the D.A.'s case was flawed, in part because a prosecution witness lied when he claimed he voluntarily testified.
"The district attorney consented to having the conviction overturned based on the acknowledgement that the key witness had been actually under arrest at the time, that he initially implicated Mr. Cooper, and that his entire trial testimony about how he voluntarily came to the precinct as a Good Samaritan, just to help out that, that was blatantly false," said Jabbar Collins, defense paralegal.
The defense also played up the inability of token booth clerks who worked that night to pick Cooper out of a photo lineup.
"We believe the two eyewitnesses to the murder who identified Mr. Cooper as the shooter were credible then, and after speaking to them again, believe they remain credible," the D.A.'s spokeswoman said in response. She said they would testify again.
Thomas Hoffman, Cooper's defense attorney, said he was disappointed.
"Mr. Cooper is innocent, and unfortunately his suffering will be extended for a little period of time, and we're ready to try this case," said Thomas Hoffman, defense attorney.
Meanwhile, Cooper's wife Sandy said while it was frustrating, she was keeping her chin up. She noted her husband had persevered for years.
"I'm still waiting to get my happily ever after," she said. "They clearly need more time, and we're going to give them that. Because in the end, we're going to win."
One of the challenges for the defense team going into the retrial is finding witnesses, some of whom may have died, and all of whom will be asked to remember details from many years ago. The next court hearing for this case and for Cooper, who remains released on his own recognizance, is May 13th.
Source: Spectrum News NY1 | Brooklyn