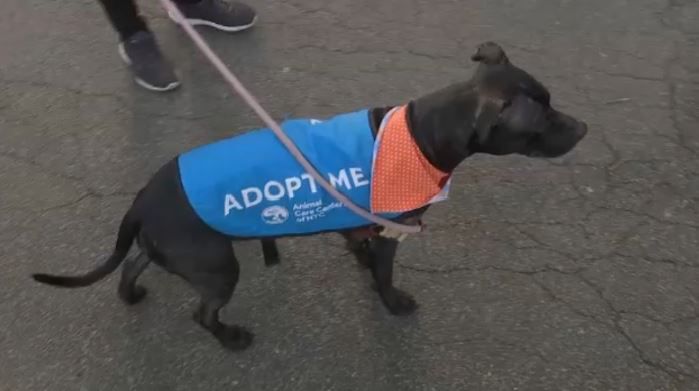 Like other businesses across New York State, animal shelters had to reduce their on-site workforce by 50 percent to limit the spread of the coronavirus.
The problem is that animal shelters are not like other businesses.
"We still have hundreds of animals that need to be fed, that need to be walked, that need to be examined by our vet staff," said Katy Hansen, the director of marketing and communications at NYC ACC.
So the Animal Care Centers of New York City decided to put out a public plea on social media. They announced on Friday that they were seeking volunteers to adopt pets, or at least take them in on a temporarily, during the coronavirus outbreak.
The response they received was unprecedented.
"We thought, 'Ok, we'll have maybe 25 to 30,' Hansen said. "We had over 1,000 people fill out the application form."
One of the applicants was NYC Public Schools teacher Yea Niedermayer.
"I saw the plea on Instagram. We got to sign up, especially once we found out my husband Daniel will be home for an extended period of time," said Niedermayer, who is fostering a dog named "Snickers."
Niedermayer is also working from home until at least April 20.
In the meantime, she and her husband told NY1 that they can give "Snickers" all the attention she needs.
In return, "Snickers" and animals like her are helping fill a void in the lives of fosters.
Many are dealing with a feeling of loneliness that can come with social distancing.
"She's so sweet and very cuddly," said Niedermayer.
Although the surge of New Yorkers staying at home has been a boon to animal shelters, it's also creating uncertainty for the city's dog walkers.
"The walks have dramatically decreased," said dog walker Andrea Candelo.
Candelo told NY1 that many of her clients suddenly have the time to walk their own dogs now.
She added that all of her upcoming dog-sitting appointments have been canceled.
"I'm a little scared, stressed out. I don't know how I'm going to pay all my bills if this continues like this. For now, I have enough food. I have enough cans to eat," Candelo said.
She said if clients could keep even a single dog-walking session during the week, that it would make all the difference.
She thinks it would be helpful not only for dogs but dog walkers too.
NYC ACC is still looking for adopters and fosters for large dogs and older cats.
To see which animals are available for adoption go to their website.
Source: Spectrum News NY1 | The Bronx