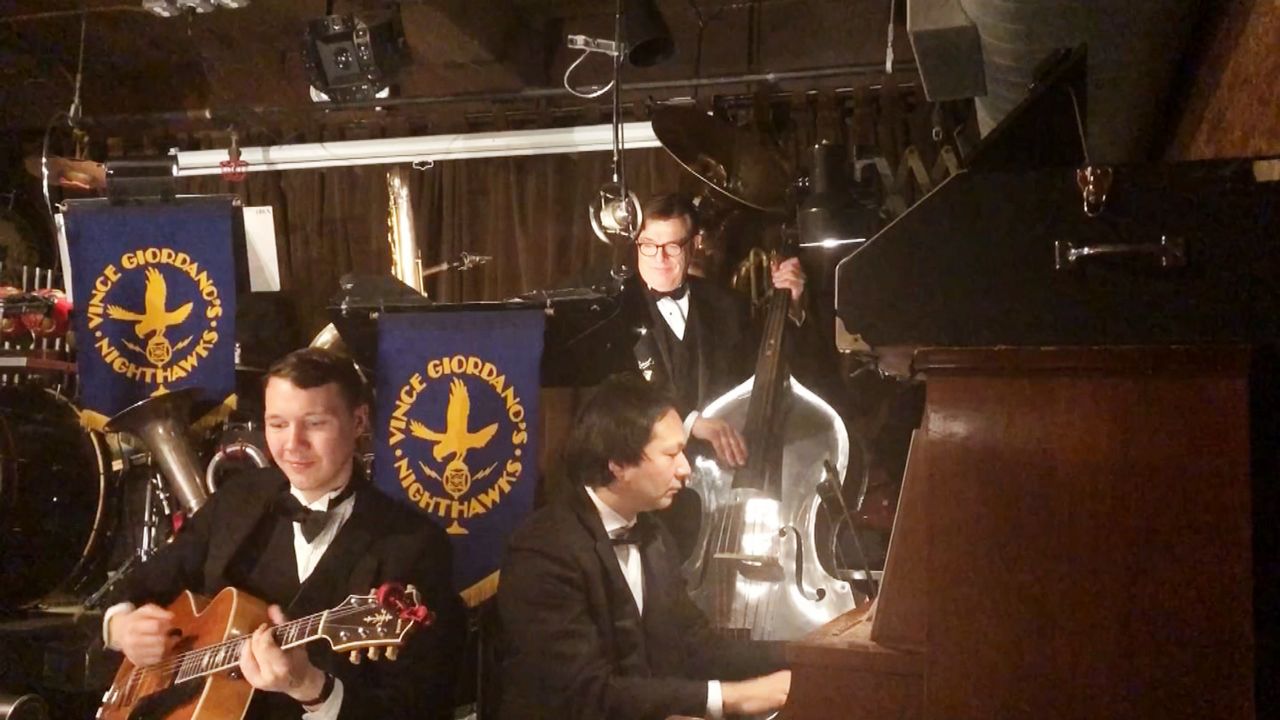 Bandleader Vince Giordano has spent his life celebrating the music of the 1920's and '30s.
"I've kept the roaring 20's alive for over 40 years so it's always roaring in my life. Now that we're back in the 20's this is a wonderful time to tip our hats again to this great era," said Giordano.
The Brooklyn-based musician and his band The Nighthawks not only play the music of the 1920's and 30's, they do it on instruments made back then. They have a regular gig at the Iguana Supper Club in Midtown, often accompanied by The Honey Taps dancers.
"It's just hard not to smile when you see everybody together, it really pulls at your heart," said Katherine Hamilton Dancer, The Honey Taps.
Giordano fell in love with this swinging style of music and dance as a child.
"My grandmother's old phonograph records, she had thousands of old jazz 78's from the 20's she was a flapper and I was allowed to wind up the old Victrola and sit there for hours and hours listening," said Giordano.
Giordano played in bands in High School and the Navy. He started this big band in 1976, using older musicians who actually played in the 20's and 30's, because his contemporaries were not interested in this kind of jazz and swing. But as his older bandmates retired or passed away, Giordano has found young musicians eager to join the party.
"I think this is one of NY's best kept secrets. You get this blast of sound that really sounds like what it must have been like in the nightclubs in the 20's and 30's," said one audience member.
Big bands fell out of favor in part because they were expensive to keep together. Giordano faces the same financial challenges that his musical heroes did, but he's not only persevered, but thrived. He arranges music for TV and Film including The Joker and The Irishman. He often appears on screen as well and won a Grammy Award for his work on the HBO series, Boardwalk Empire.
The music is so energizing that when Vince Giordano's Nighthawks play here they do three sets a night without missing a beat.
"I have a collection of music of over 2,500 charts so I try to keep it fresh and new," said Giordano.
Giordano and the Nighthawks play Monday and Tuesday nights at the Iguana Supper Club.
For details go to VinceGiordano.com.
Source: Spectrum News NY1 | Manhattan